We knew shockingly little about Toulouse before deciding to abandon our lives in California and move with our two kids to the Southwest of France.
Before arriving to look for an apartment in July 2014, there had been the obligatory reading of Wikipedia followed by a virtual cruise through the city center via Google Maps' Street View. Rows and rows of light-colored brick buildings gave it a distinct hue, but from our home in Oakland we had a hard time grasping what might otherwise distinguish the city.
Even in this digital age, there is no substitute for going to a place in order to learn about it, so that's what we did. After fobbing the kids, (our daughter Kalian, 9, and son Liam, 11) off on some friends for a week, Jen and I boarded a plane in San Francisco.
I feel certain that our Lufthansa flight made record time to our connection in Munich. The flight was due to land late in the afternoon of July 13, and that very same night the FIFA World Cup final featured Germany against Argentina. The Germans have a well-deserved reputation for efficiency, but on this day had managed to turn that up to 11. We dashed through the deserted Munich airport and barely crossed another soul on the way to our connecting gate. The flight to Toulouse arrived 30 minutes earlier than planned, and we were soon checked into our hotel, Ours Blanc, a modest spot that once served as one of the Gestapo's headquarters when the city was under occupation.
While Americans like to believe that the French detest them, the memories of the two World Wars are fresh and the gratitude for America's role is evident. The hotel overlooked Place Woodrow Wilson and the adjacent Allées President du Roosevelt. We had come a long way to be reminded that the relationship between our homeland and France is intimately intertwined.
With all the rushing, we hadn't eaten and had arrived around 9 p.m., an awkward time to find dinner in France. Restaurants typically open around 7:30 p.m. for dinner, but this is not Spain where I've sat down for dinner at 11 p.m. There was a window for being served and we were in danger of missing it. The front desk said our best bet would be the Place du Capitole, just a 5-minute walk to the west.
Following these instructions brought us to the plaza that remains the heart of Toulouse. Bordering the western side of the plaza, the Capitole building stretches about 450 feet and is an Instagram-ready monument that the ruling council of Capitouls, dominated by local merchants, ordered built in the 12th century. With a neo-classical façade added in the 18th century, the building serves as the city hall today while the former dungeon just behind is now the tourism office. The name Capitouls references the city's founding by the Romans, which remains a source of immense civic pride. At one time, this plaza would have been the northernmost point of the Roman walled city.
Now, it's ground zero for tourists. On the Southern side, Bibent is one of the city's most renowned eateries, in part because of its flashy interior which mixes Baroque and neo-classical styles. Mirrors surround the dining room, bordered by columns adorned with swooning gods, and pastel paintings of cherubs floating in the sky. It's so super-charged with decoration that one could imagine Bibent being single-handedly responsible for the rise of minimalism. Jean Jaurès, one of the fathers of French socialism, used to hang out here when he was deputy mayor. More recently, legend has it that Bibent is where three Serbian students who were attending university in Toulouse met in January 1914 to plan the assassination of Archduke Ferdinand that triggered World War I. At least, that's what the Bibent menu says.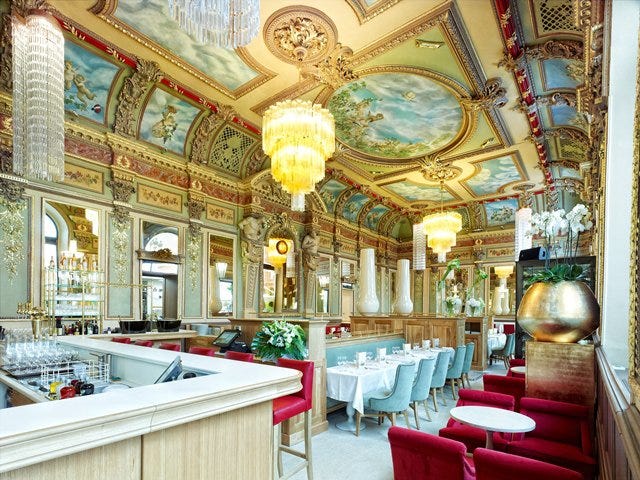 We were too late to be seated at Bibent, so we wandered to the eastern side of the plaza where a commercial arcade faces the Capitole. Lined with cafes that seem indistinguishable from each other, we chose one at random. Without realizing it, we had seated ourselves at Le Florida. After 15 hours of travel, we couldn't escape the homeland.
The interior is a lavish Belle Epoque affair, probably the fantasy of what most Americans expect in Paris but is a bit atypical for this city which has kept its Medieval look. A swirling staircase in the middle is surrounded by plush red velour seats and booths. A stained-glass ceiling and paintings of dandies and elegant women give the impression that not much has changed since the late 19th century.
We opted instead for the terrace, where we managed to squeeze around a table to join hundreds of others watching the second half of the World Cup final on a TV perched above the waiters' station at the neighboring bar.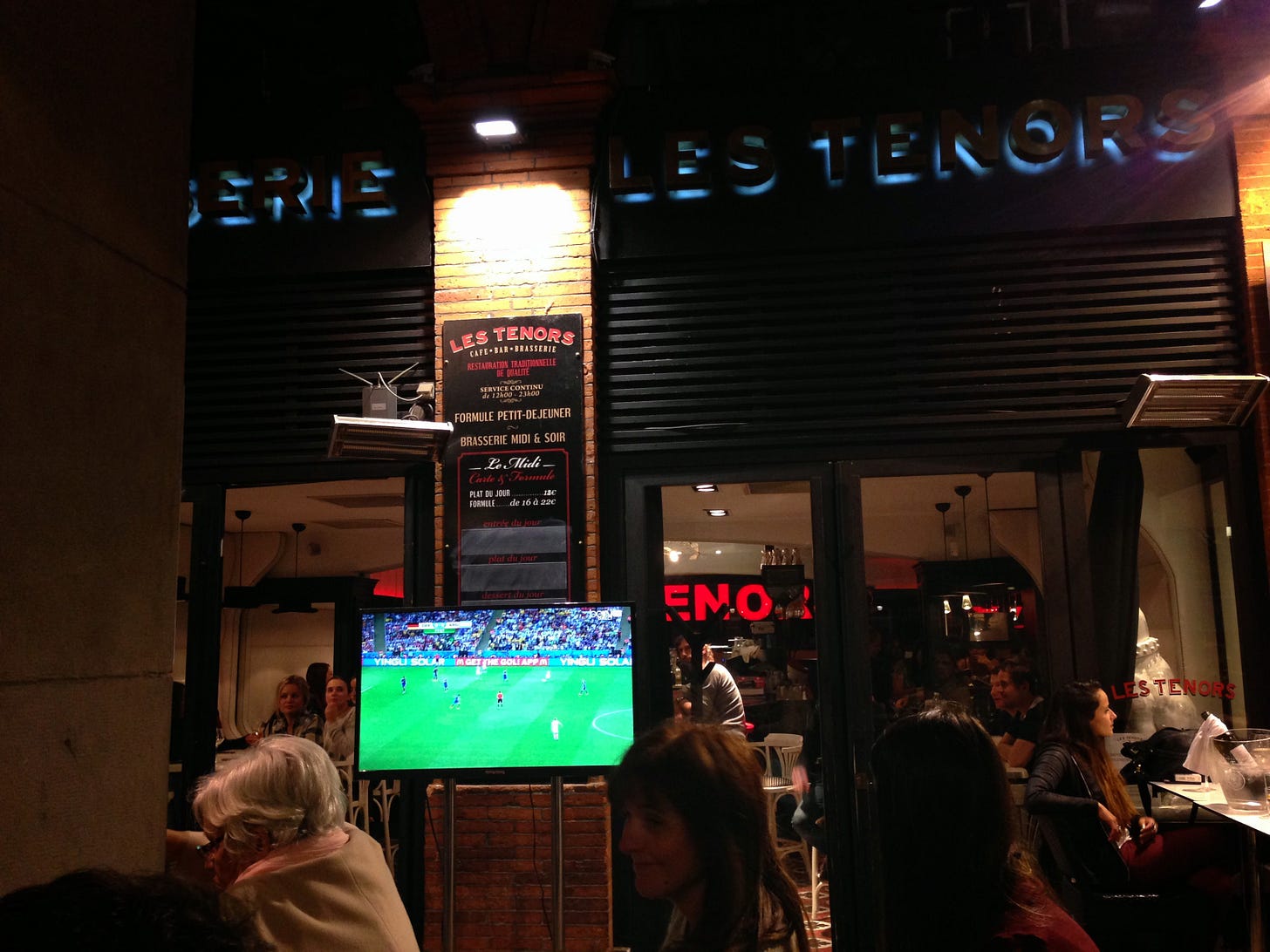 Two things struck us almost immediately as we finally relaxed. First, though it was pushing 9:30 p.m., the sun was still setting, leaving vague traces of pink and blue light streaks in the sky. Second, it was wonderfully warm out. Our years in the San Francisco Bay Area had taught us to live without seasons. No snow in the winter, two months of a rainy season, seasonal Springs and Falls, and summers where the temperatures plunged to the 40s at night. Barbecuing in our backyard in Oakland obligated us to buy heat lamps and a fire pit and meant wearing heavy coats and jeans to make the summer evenings comfortable.
And so, the seduction began. Sitting on a terrace in Toulouse, enjoying a glass of red wine, and taking deep pleasure in the Mediterranean climate that made short sleeves a summer evening possibility again seemed to augur well for the future.